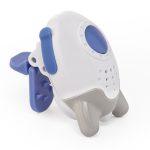 Wooshh
The Small, but Mighty Sound Soother.
£24.95
8 high-quality soothing sounds and 4 volume levels
High quality sounds, soothing for babies and adults alike
Tiny design - so you can take it everywhere
USB rechargeable
1 hour or all-night mode
Stand, clip or strap it (out of reach of child)
12-month warranty
Safety tested to EU/USA and international standards by Intertek
Free UK delivery
365 in stock
Do you ever make shushing sounds to help your baby drop off? Then, once they're asleep, do you creep around the house afraid to wake them?
Wooshh can help, by surrounding your baby with soothing sounds.
The comforting sounds will encourage them to drift off and help mask disruptive noises – allowing them to snooze soundly… anywhere.
Choose from 8 sounds and 4 volume levels – find the perfect soothing environment for your baby.

Versatile design allows you to stand, clip or strap it out of reach of your baby – use it inside or outside. 

So small, it fits in any bag or even your pocket – take it everywhere you go.

Rechargeable, so no need for batteries – simply use the USB cable included to charge it.

1-hour auto shutdown is great for daytime naps, or switch to the 10-hour all-night mode – for those extra tricky nights.
Advanced music mastering techniques were used in Wooshh, to produce high-quality sounds from such a small speaker. And we used a premium sound chip to deliver near CD-quality audio with no glitches.
The 8 sounds were carefully curated and mixed to achieve soothing qualities for babies, older children and adults alike.
Wooshh has two types of shushing noises, so you can pick the most effective version for your baby. It has two calming water sounds – stream or heavy rain – and a cleverly crafted womb sound with pink noise, heart beat and swooshing sounds designed to authentically recreate the soothing environment they were in during pregnancy.
The ambient music is perfect to use as a sleep cue while you get them ready for bed, plus there's a truly relaxing purring cat sound. Lastly, it has a genuine outer space noise * that will lull your baby to sleep.
We're confident that, with such a wide variety of noises to choose from and 4 volume levels, you'll be able to create the perfect sleep-inducing environment for your baby – and maybe even yourself!
* Space sound used with kind permission of NASA.
Dimensions
H 60mm x W 36mm x D 36mm
Weight
38g
Warranty
1 year
In the box
1x Wooshh, 1 x USB cable, 1 x Strap, 1x User Instructions
Safety
Keep out of reach of children (small parts).

Never place the product in or attach to a cot, crib or bed.
 
Avoid leaving in a hot car, direct sunlight or near a heat source.
 
We recommend that the lowest volume is used on the all-night setting.
 
Always read the user guide before use.